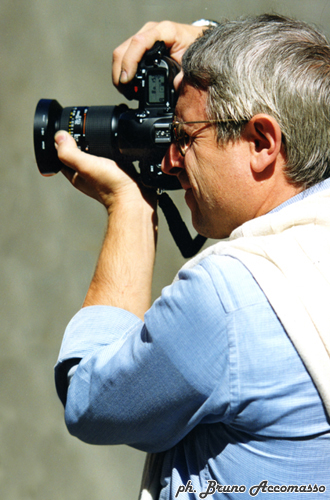 Taking pictures is a way to make art easier to understand, as the authenticity filters from the actor who works on a stage to the man on the street who acts in real life. A chance meeting in 1976 made me discover the world of photography and its contradictions.
In 1980 my on-going need for a personal research brought me into the world of theatre :
here he performance which takes place on stage becomes a window on the world and finally allows the photographer to freeze some images that he couldn't take in the reality.
In this world of paradox, we try to capture and freeze the instant of greatest intensity, as if we wanted to gather all the contents in one single photogram. Much as I personally value this synthesis, I can't overlook the need to use more images to tell a story. This need encouraged me to take my first steps into the digital world: as early as 1985 I started to use the computer in the photography sector.
Fotografare è forse un modo per cercare di rendere l'arte più accessibile, giacché l'autenticità filtra dall'attore che lavora sul palco quanto dall'uomo di strada che recita sul palcoscenico della vita.
Un incontro casuale, nel 1976, mi fece scoprire il mondo della fotografia e delle sue contraddizioni. Nel 1980 la necessità di una continua ricerca personale mi fa approdare al teatro.
Nel gioco di luci e ombre, dove l'azione scenica si svolge apparendo come una finestra sul mondo, ho finalmente la possibilità di fermare delle immagini che nella realtà si sarebbero dovute rubare.
In questo mondo di paradosso, si cerca di assorbire lo spettacolo fermando l'istante di maggiore intensità come se si volesse riassumerne il contenuto in un unico fotogramma.
In contrapposizione a questa necessità di sintetizzare nasce il bisogno di raccontare qualcosa con più immagini.
Nel 1985 con i primi sistemi computerizzati per audiovisivi inizia il mio cammino nel nuovo mondo dei sistemi digitali.
Carlo Manzato
info@manzato.it
info@carlomanzato.com